"VOICES ON THE RISE, The Persons Behind The Numbers", Exhibition at Ateliers Mommen , Brussels // 26.05.2016 > 05.06.2016

by KRISTINA IANATCHKOVA with Bachir Barrou & Nicolas Cressot
The exhibition combines two projects, "Last exit to Brussels? Hidden Portraits" and "One Man, One Voice", both questioning our view of migrants and stereotypes about their place in our society propagated by mass-media and politicians. It enables instead a more humane vision of the "displaced" through their portraits telling heartbreaking stories, through their often unnoticed words and reflection about life, education, politics etc. A challenge to restore the so often distorted and manipulated image of migrants, to get closer to each other, to listen and discuss.
Vernissage: Thursday 26.05.2016 : 18h - 23h
+ Concerts : COLLECTIVE N TRANCE (trance, ancient dubstep, sufi jazz) 20h30 + 1280 ALMAS (punk, ska, rock) 22h00
Expo opening hours:
Friday 27 - Saturday 28 - Sunday 29.05 // 14h -18h
Tuesday 31.05 until Sunday 5.06 // 14h -18h
Gallery address:
Ateliers Mommen,
Rue de la Charité 37,
1210 Saint-Josse-ten-Nood
ateliersmommen@collectifs.net
.................................................................................................................................................................................................................
"Last Exit to Brussles? Portraits cachés" Solo Exhibition at AZIRA , Brussels // 02.10.2012 > 02.11.2012
>> EXHIBITION EXTENDED UNTIL 10th OF JANUARY 2013!
Visits by appointment, please call : +32 485/95.48.25
Address: Quartier Danseart / Rue de la Cle, 26 / 1000 Brussels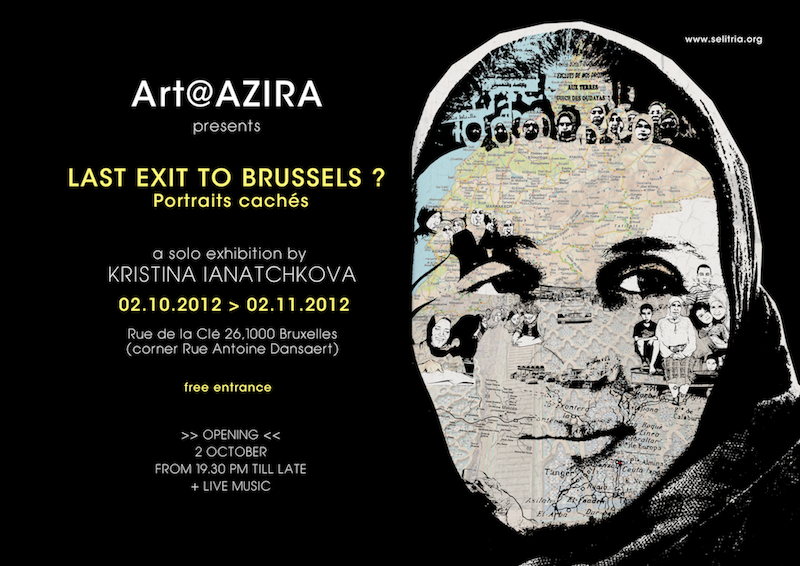 "Last Exit to Brussles? Portraits cachés" Solo Exhibition at Theatre MARNI, Brussels // 06.03.2012 > 09.04.2012





Festival Regards Croisés 2012 // 8-10 March // Theatre Marni



More information at www.festivalregardscroises.be


Festival Regards Croisés 2012 from BRUXELLES LAIQUE on Vimeo.


REFUGEES PORTRAITS series
>> ongoing project <<
This series of video portraits is a testimony from refugees about their bitter experiences on their perilous journey to a safe haven, armed only with their hope for a better life. They were all asked the same four questions : how was their life like in their home country ? What happened that urged them to leave homeland ? How they did they get to Belgium ? What kind of reality were they confronted to over here ?
Each portrait is screened as a dynamic cartography, containing elements of maps of the various places they visited, filling up their entire body.The fluid representation of geographical borders is meant to show the natural process of displacement. Many centuries ago, people were driven to other lands by the need to survive, to discover and expand. The XXth century and its two World Wars saw many a geopolitical change affect the borders both in their political use and in the ways to control them. This, combined to massive waves of populations displacement, consequence of political oppression or natural catastrophes, resulted in an unprecedented psychological violence made to the victims fleeing their fate in their country. The hosting states, often at least partly responsible for this unwanted immigration, inflict nonetheless a cruel, de-humanizing treatment on those who believed in the message of freedom and welfare suffused worldwide by the modern, occidental nations.
The refugee's route does not only cross borders, it also leaves vivid traces in their memory, shaping their psyche and vision of life for ever, like unfair scars and uprooted hopes.
The project is intended to unveil the harsh choices forced on ordinary people under tremendous pressure, and highlights the barriers set on their path to a normal life.
I would like to walk the viewer through a process of identification with these people, in order to create empathy, to create solidarity, to create involvement.





FACTS / FICTION
>> ongoing research <<
The research focuses on the border between facts and fiction, the deception and deconstruction of historical records and visual materials, media created news and altered school textbooks. What happens when they overlap and morph into one another?
History is a fluid substance with a lot of additives, which needs time to be digested to become homogenic again. Historians try to restore, analyze, and make sense of various bits of information until they form a story, but who determines its legitimacy? What are the consequences of modifying this knowledge in the long term?
History becomes a powerful tool in the hands of its creator, capable of establishing certain points of view or justifying actions, sometimes using methods like photographic falsification, deleting or modifying records, even making people vanish.